After you add a new friend in LINE messenger, the first thing you are most likely to do is go to your friend's profile and check their profile picture and status message. Profiles are like personal billboards, where you first reveal yourself to others, and all told the feature gets about 190 million monthly page views. In July 2019, we started discussing with the planning team about what functions users most enjoy and need to fully tell their stories through their profiles.
4 aspects of self-expression
From the very beginning of the redesign process, designers from the Social Product Design worked on ideation with the planning team. In reconceptualizing the profile, we envisioned four areas for users to express themselves. Functionally, we focused on the visibility of the profile contents and the ease of customizing and decorating one's profile, while design-wise we focused on creating must-have "killer items" and animated effects that would allow users to really express their emotions.

Our product designers are always thinking about how to design a profile layout that allows users to best tell their stories. That's why the latest version of the profile screen has evolved to better emphasize the decorative, customizable features.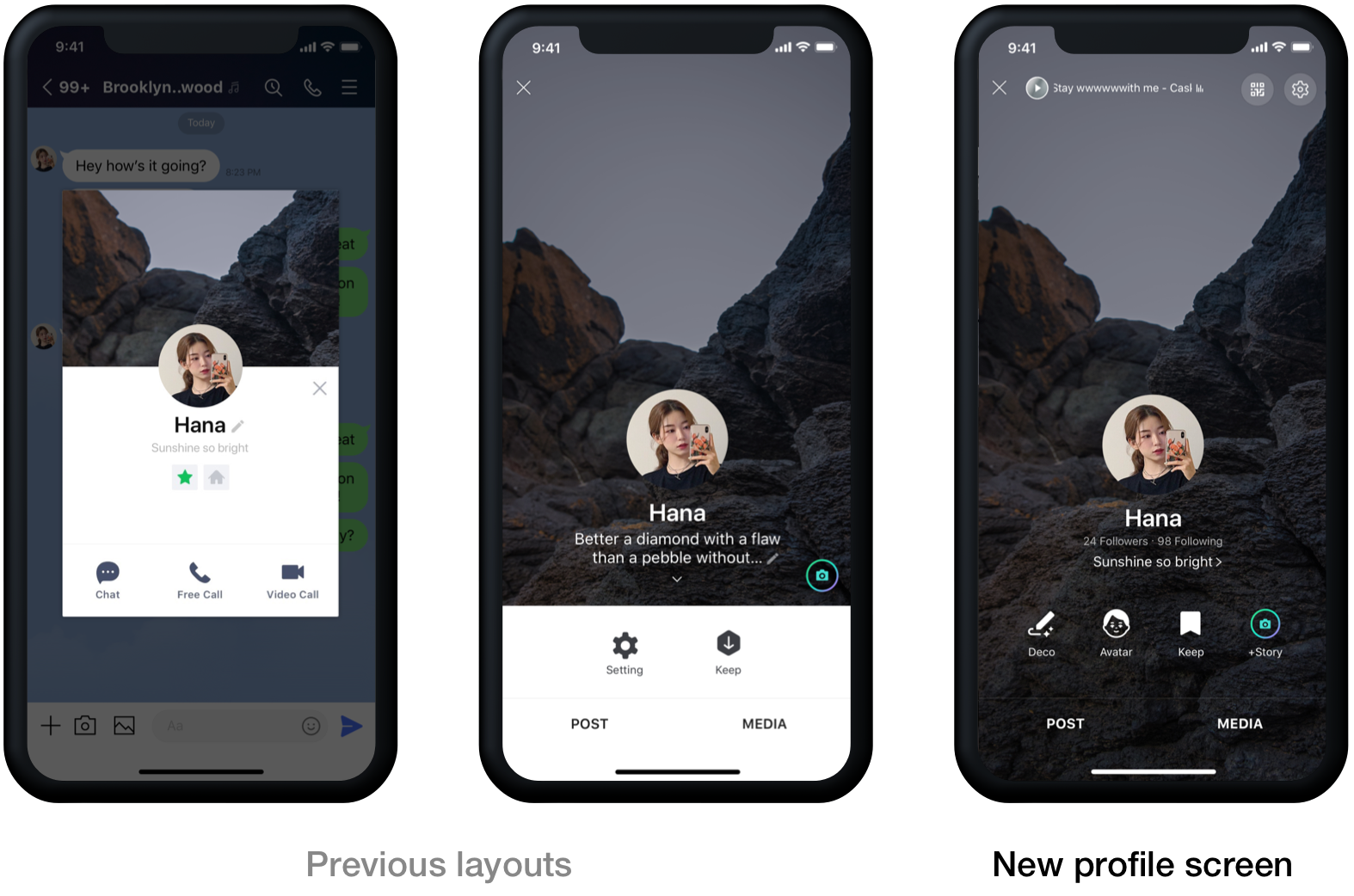 From ideation to final rollout
Because a profile is not only for connecting to chatroom and calls, but also for Keep, Story and many other services, the profile UX for the customizable features needed to be thoroughly reviewed for ease-of-use and functionality. First we set up a basic flow and then we tested out prototypes of the actual features. Then we tried out all sorts of design ideas and samples, as we looked to create the kind of unique styles and emotional engagement our users love.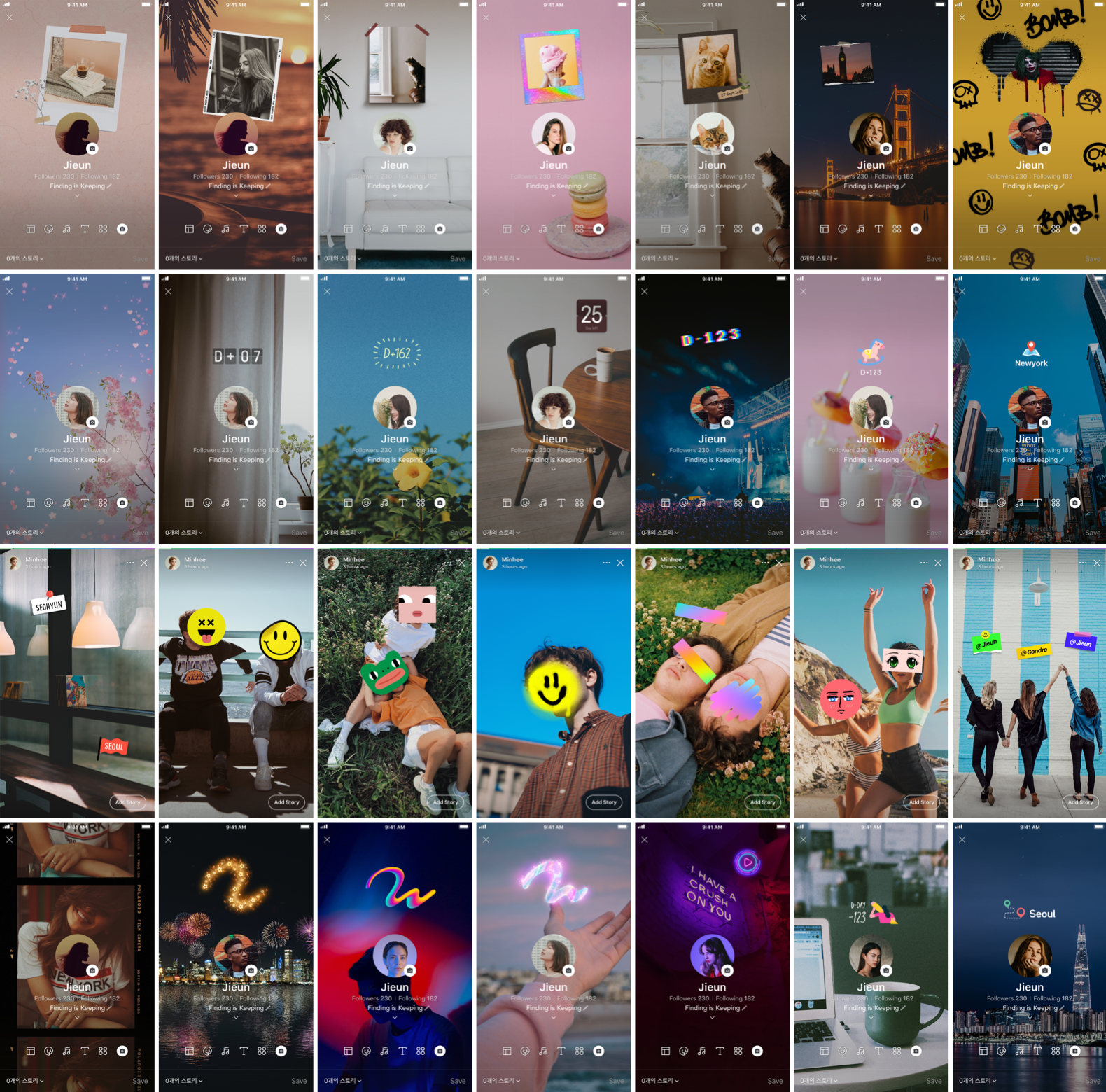 During that process, we discovered several unexpected interactions and usage issues, so quickly took steps to fix those problems.
Theme – the easiest way to personalize your profile
Theme offers complete design templates, bundling together all the customizable options — Sticker, D-Day, Photo Frame, SNS links, Text, and BG Effect — making customizing easy for people who find it hard to select among all the choices. There are five cute themes provided for women in their teens and twenties (the main target users of the profile customizing features), along with other basic themes targetted at all demographics.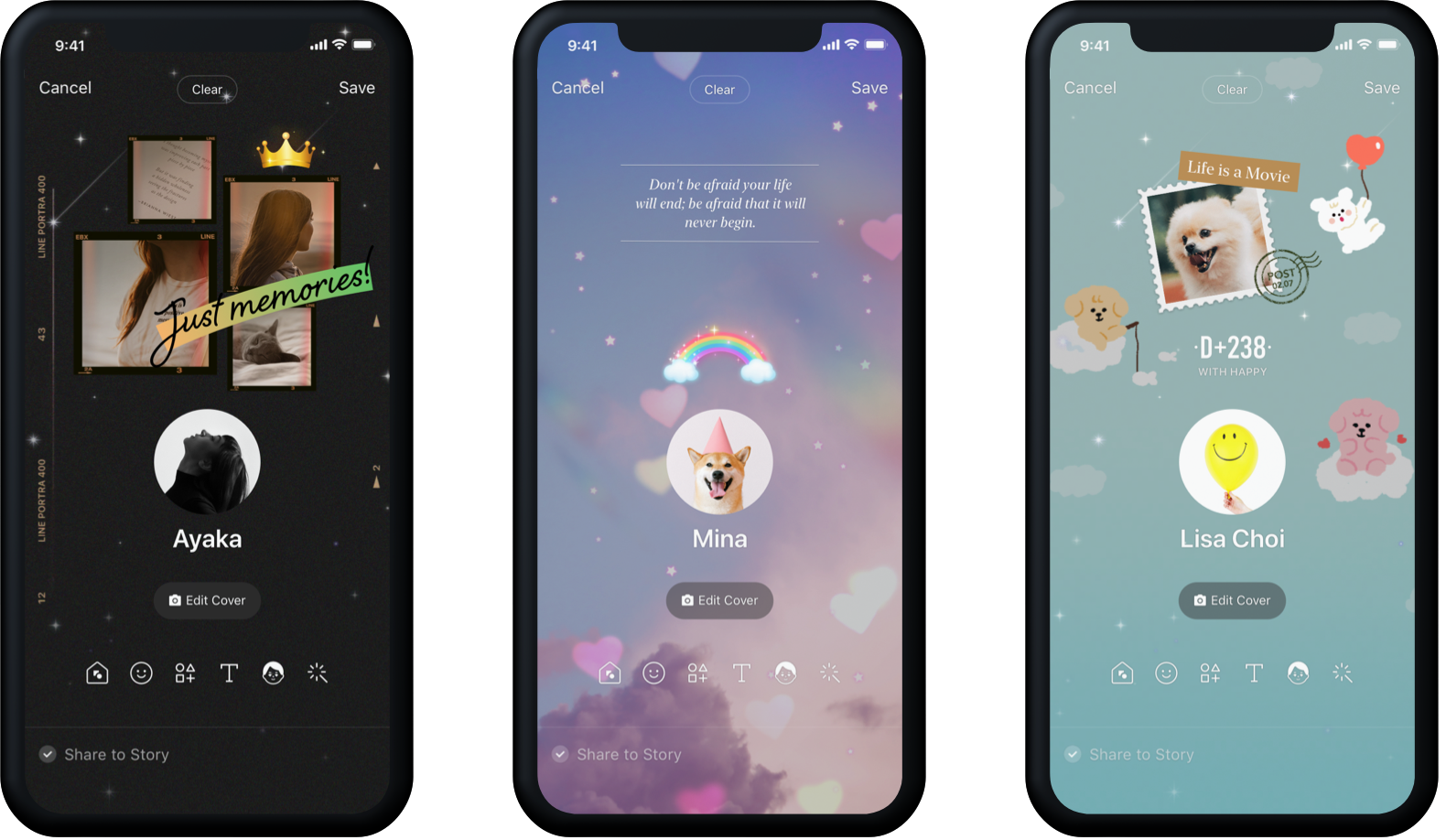 In addition to default themes, there are also seasonal themes offered for special times of year. For example, this October, Halloween themes were very popular, accounting for a 75% usage rate among all themes. And because LINE operates in many different markets, we also offer an array of localized themes — like in Taiwan, where we offer a series of themes based on the various Taiwanese baseball teams.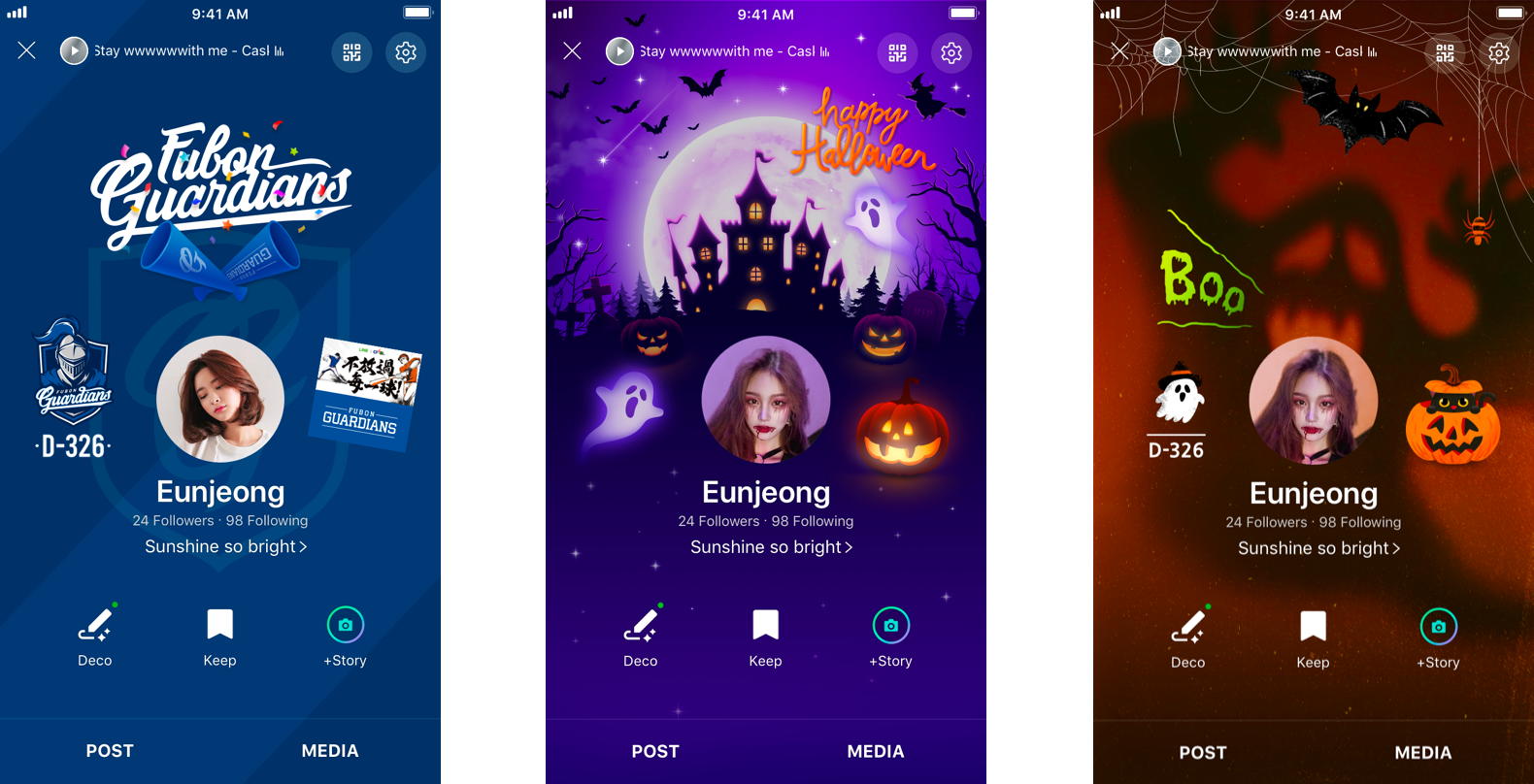 BG (Background) Effect and Doodle
Sometimes, on special days, we might want to express our feelings on our profile, but the usual design options just aren't enough. Fortunately, LINE's profile feature now has additional options. For example, during the spring, you can try using the cherry blossom BG (background) effect, or using the star effects when you're thinking about the dark sky at night. Your friends on LINE can share the same emotion when they see your profile.
Widgets: D-Day, Photo Frame, SNS Link
Set your anniversary or other special date using the D-Day widget and the number of days since that designated date will be automatically counted. The Photo Frame widget enables you to add special photos in the background. Plus, you can add a link to your social media accounts using SNS widget.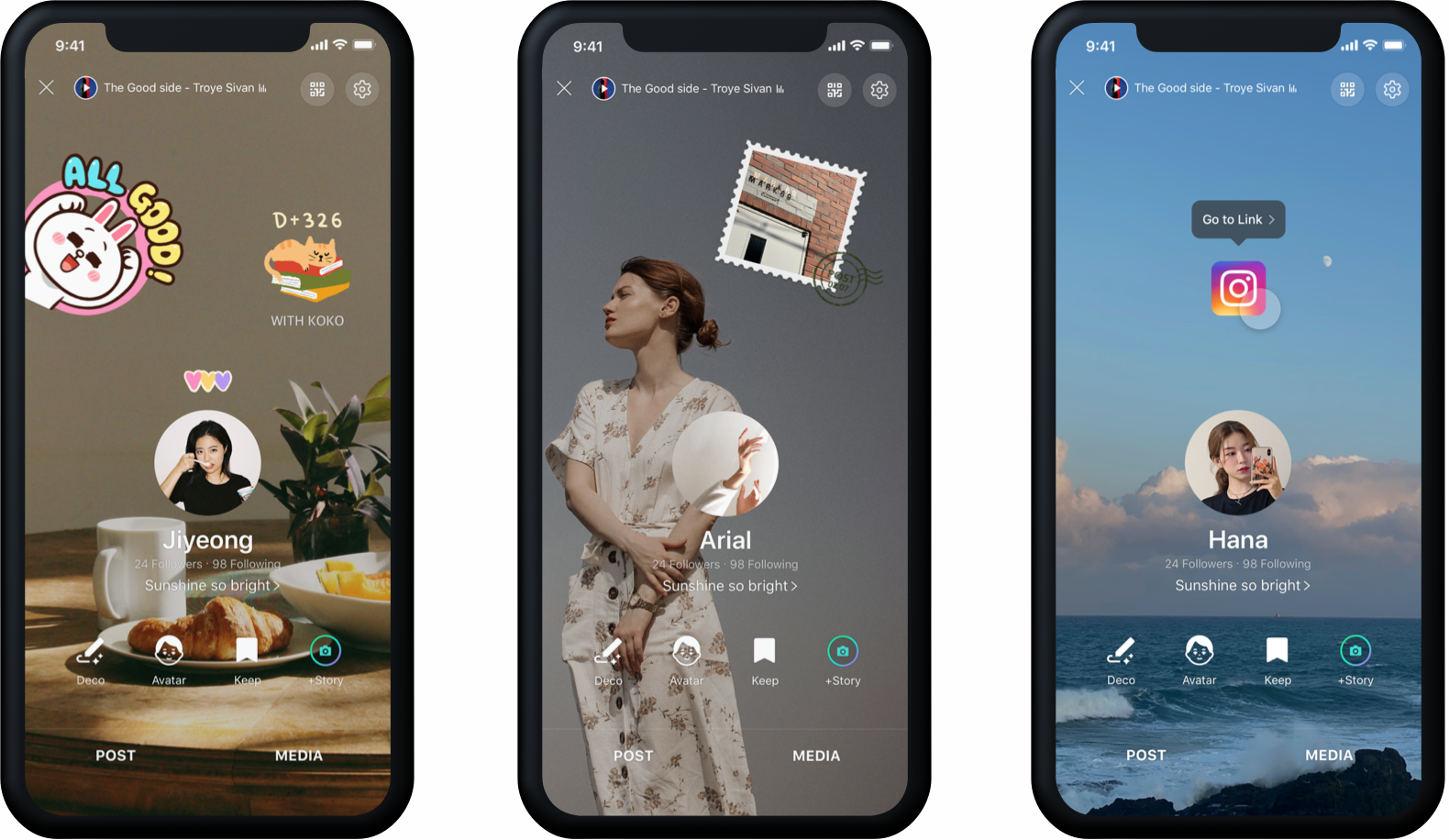 Customized Texts
We provide a wide range of typefaces so users can decorate their profile with messages — either ready-made or create your own — that have just the right look.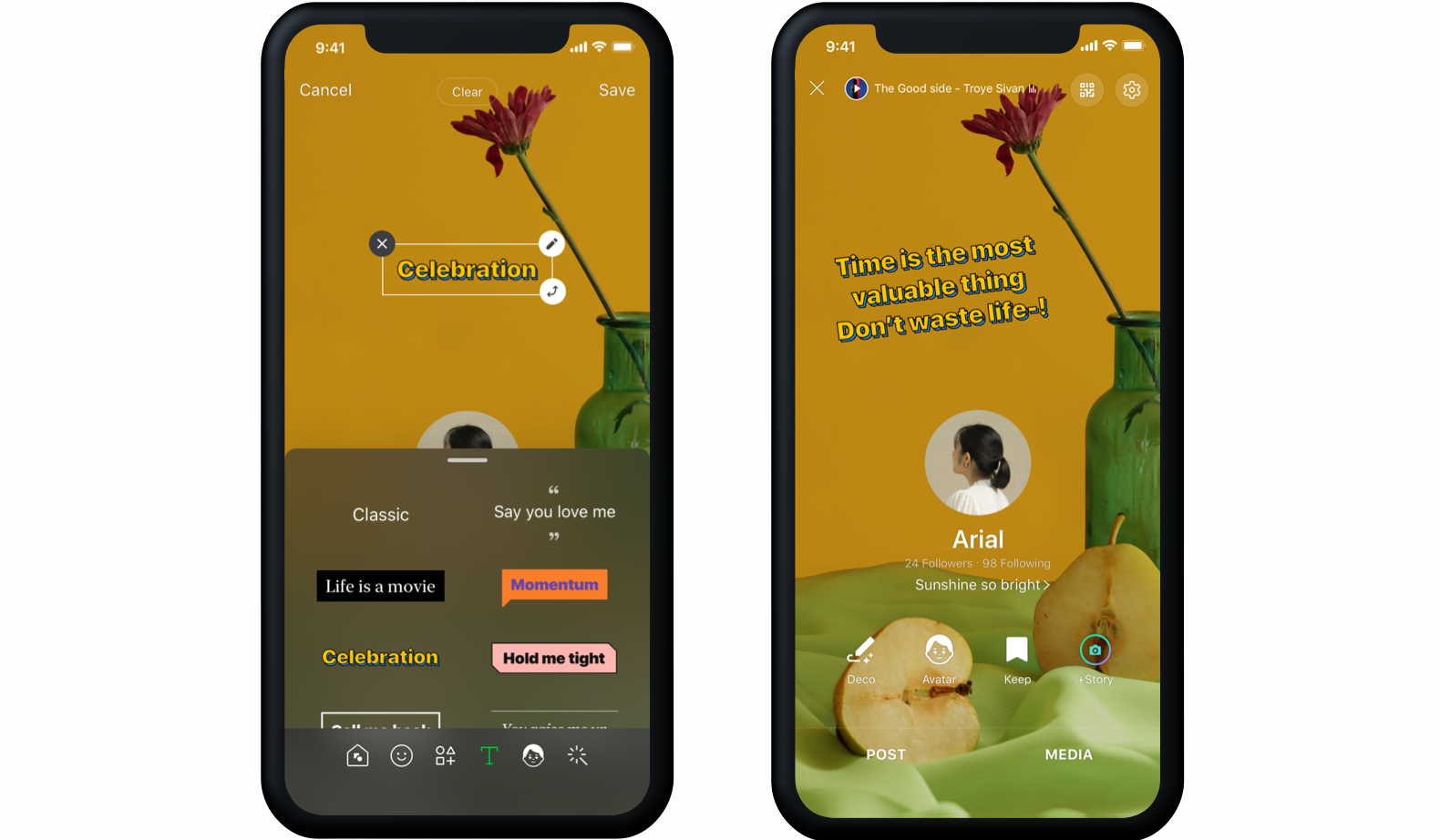 Animated Avatar
LINE launched its Avatar service in September, which can also be used for your profile. Avatar offers more than 60 gestures and poses, including interactions with pets, and there will be more updates in the future. Make your profile more fun and engaging with an animated avatar.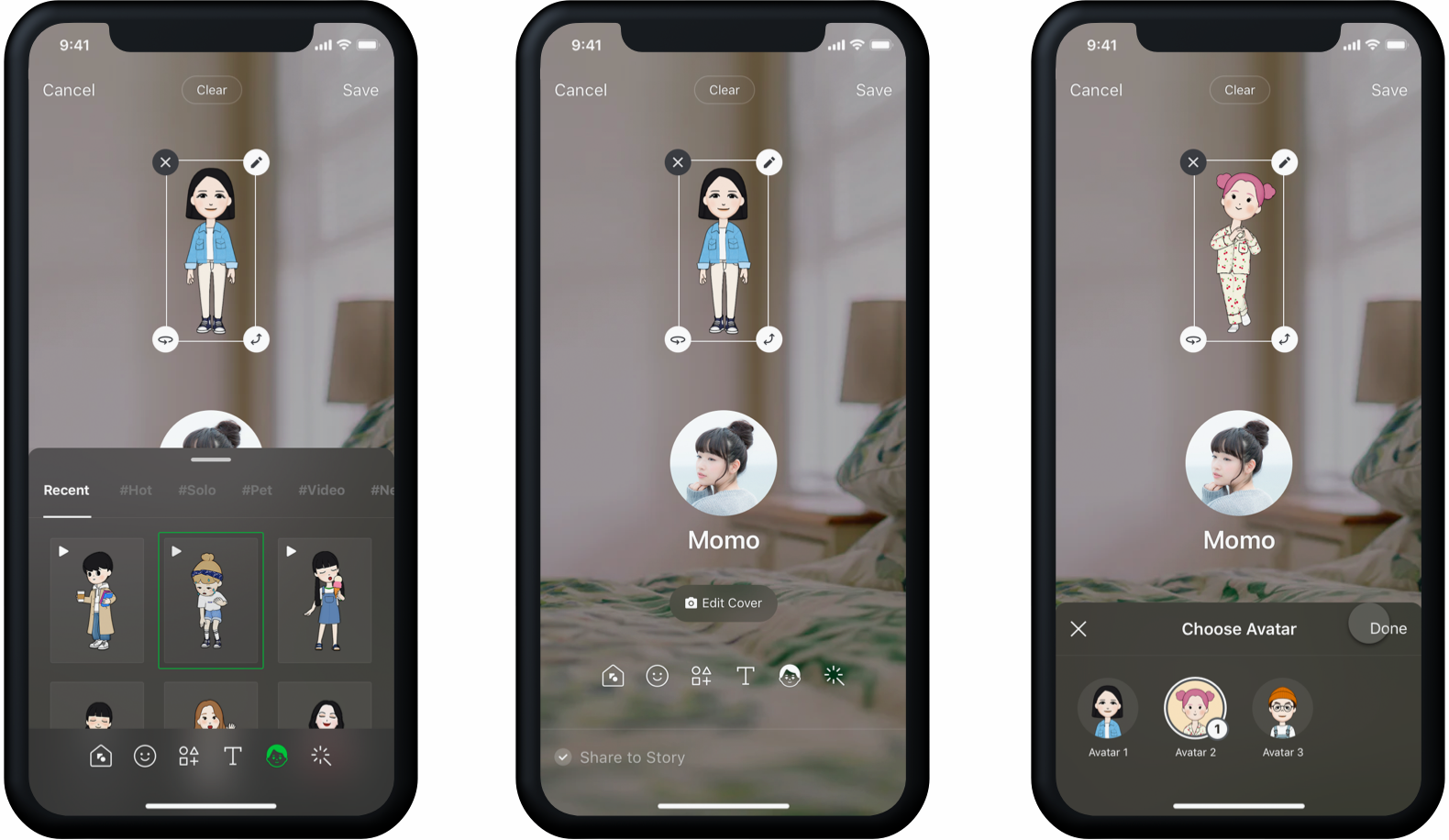 Micro Animation
Even small details on your profile can say a lot about who you are — that's why made a point of finding lots of little ways to add action and little motions to the profile screen, to amplify its impact. The result? A micro animation function, to really make your profile come alive.
Users embrace the redesign
After launching these redesigned customization features, the monthly page views of LINE profiles shot up about 50%, even though the number of users remained the same. The most popular items have been Photo Frame, BG effect and Sticker, followed by Text and SNS Link. And as people used these new features, they left comments like "Cute!", "This is so much fun!" and "I want to try them all!"
The future of profile...
LINE designers never stop pouring through user data, analyzing the numbers and, together with the planners and developers, looking for ways to improve. LINE's profile feature is going to continue evolving, becoming a space where people can express their true selves better than ever. Please keep watching for more updates!