LINE Avatar was launched in September 2020, instantly gaining explosive popularity; in fact, more than 1.2 million users around the world signed up in just the service's first five days. The idea behind LINE Avatar was simple but extremely fun — turn your profile photo into a cute, realistic cartoon of yourself! Not only does the cartoon look like you, but you can dress it up and pose it in all sorts of ways, depending on your style and mood.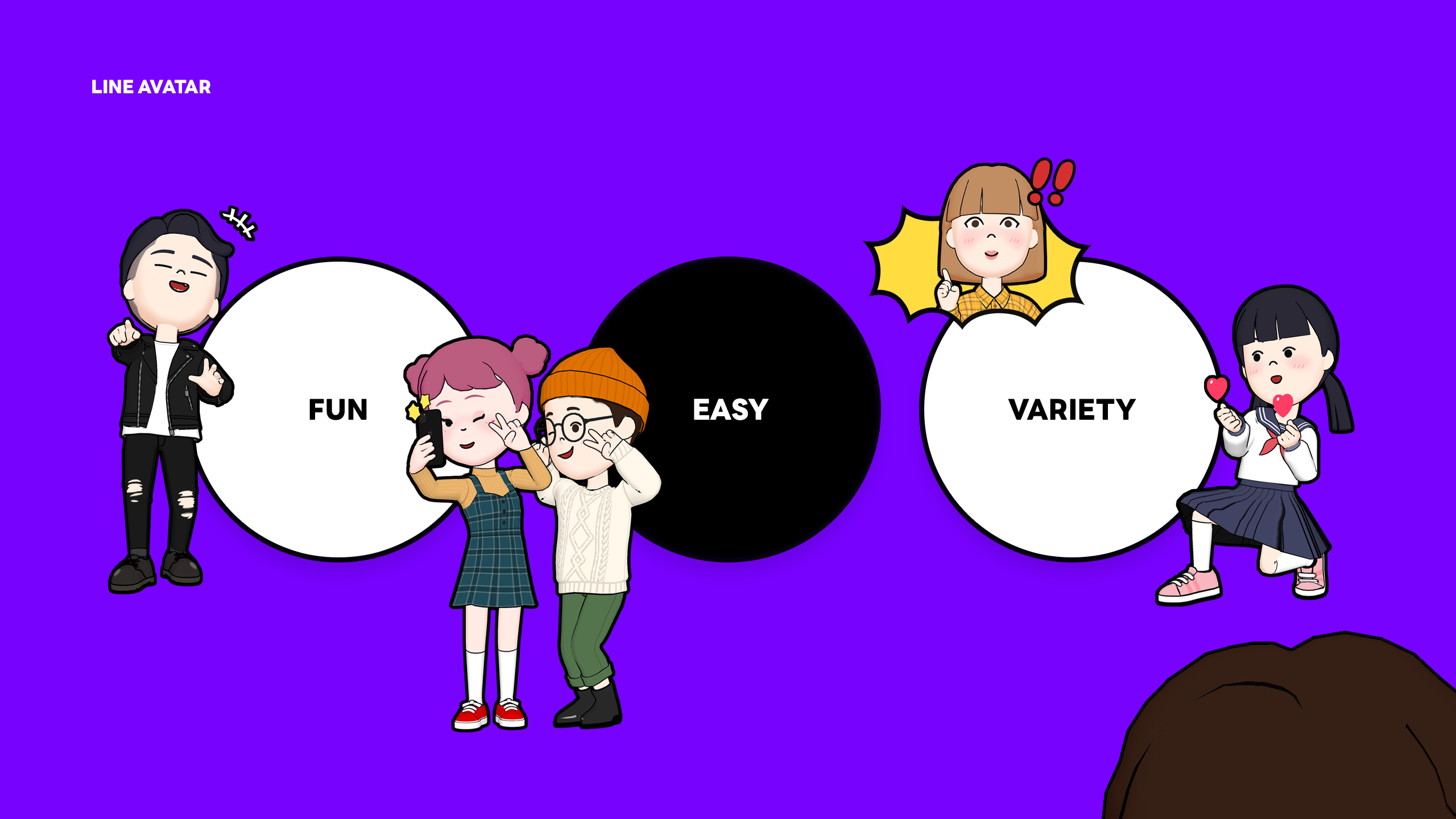 What does your avatar look like?
For most users, when they create their LINE avatar, their first reaction is "Wow, this really does look like me!"
That's because making an avatar begins with you taking a selfie, so the service can generate a realistic cartoon image based on your likeness. From there, you can customize your avatar's details and choose your favorite fashions and styles. Some users apply looks that are similar to their usual selves, while others try new changes. You can also change your gender, your skin color, or wear clothes and accessories that you don't usually put on.
And once you've chosen your avatar, you can use it in all sorts of way — it can play with your pets, travel to virtual worlds, meet celebrities and more!
But creating great-looking avatars wouldn't mean much if they were impossible to set up and use. Which is why we put endless hours into thinking of how to make creating and using our avatars easy and fun. The end result is that LINE avatars are simple for anyone to use.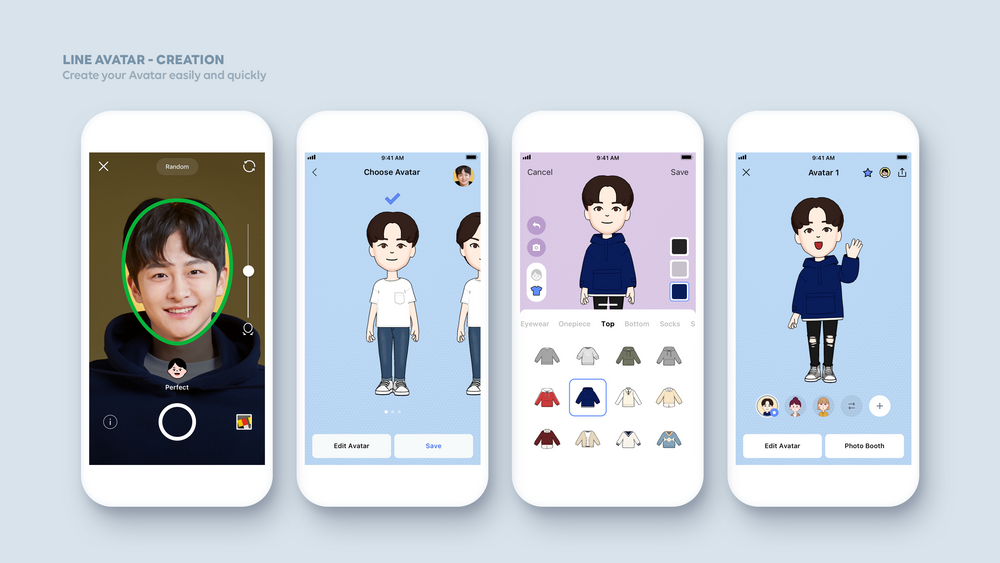 Creating your avatar is easy and simple. Take a selfie using the Avatar app and the app will automatically turn your image into an avatar. Based on the selfie photo, AI technology analyzes the face and generates an avatar. You can use that automatically generated avatar or customize it however you'd like!
The toughest part of this project was figuring out how to make creating and using the avatars easy and clear. If it was too difficult for users to go through all the guidelines and check all the menus to create their avatar, few people would want to use the service, no matter how cute the results were. Similarly, the process of using the avatar after creating it also needed to be straightforward.
Easy-to-understand categories
After creating an avatar, it is easy to select among various hairstyles, makeup options, facial shapes, and different eye sizes. In order to make the process easier for users, the avatars use interesting and cute colors, different from what's typical for other comic characters and 3D characters these days.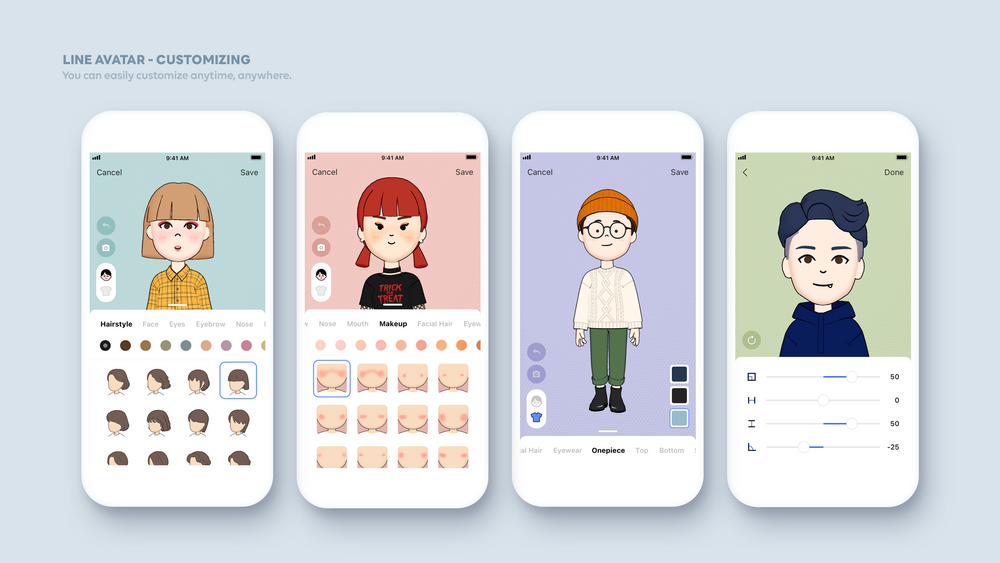 Users get clear thumbnails of their choices so they can quickly see how each item looks when applied. Making this work right required adjusting for many factors, including iconography, color, and texture, to help users set up everything smoothly. Also, as a user tries out different features and clothing, the focus on the avatar changes, making it clearer to the user what part is being edited.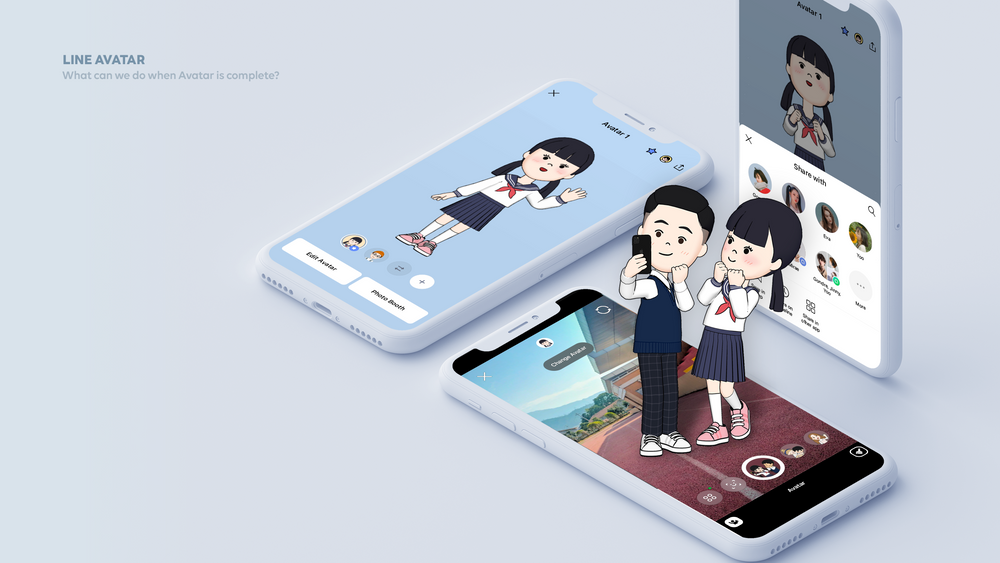 You can create up to seven avatars, and take photos of various moments of your avatars and save them into images and videos. You can also share your avatars with friends, other users or on your SNS.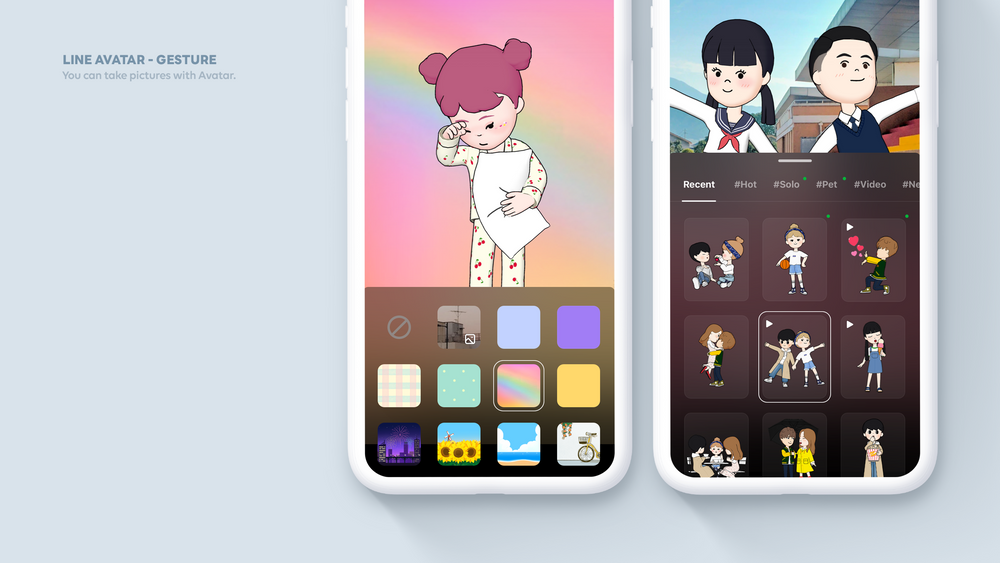 We update many of the items, gestures, and background graphics every month, and we prepare seasonal items for each country. Plus, the details and subtle gestures of the avatars don't just look good, but help users feel more attached to them. You can see at a glance the actions and items that avatars have from the preview thumbnails when displaying gestures.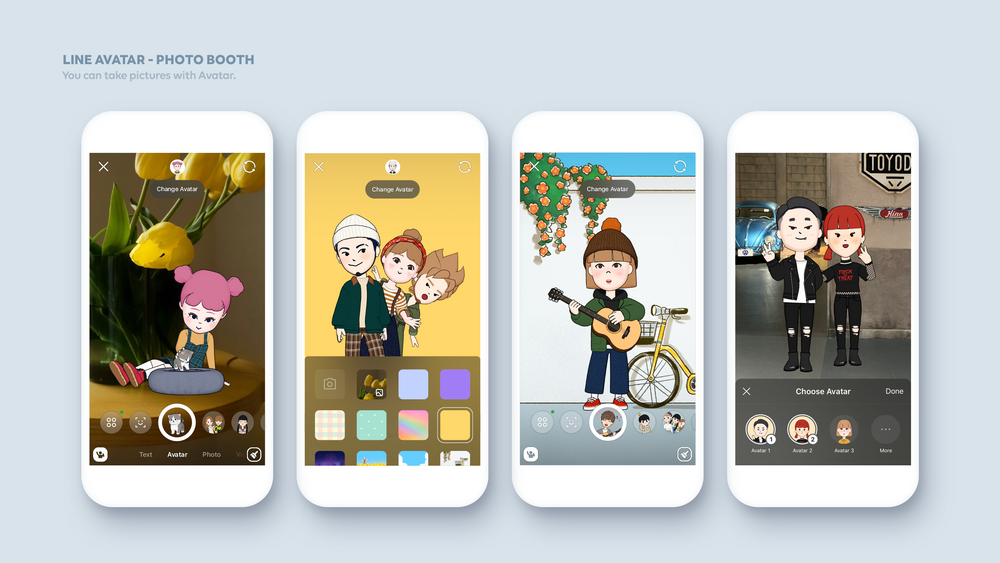 One really fun feature for Avatar is the ability to place the avatars into actual spaces through AR technology, or by loading images from your photo album and placing the avatar into them. This was quite a difficult process with a lot of technical elements and it required repeated discussions among product designers, planners, developers and graphic designers, but in the end we think it turned out really well.

For users who have to spend more time at home due to the COVID-19 pandemic and miss their friends and family, we also provide seasonal features for the avatars. Thanks the LINE Avatar, you can enjoy Halloween, Christmas, New Year's and more with your friends.
Collaborations add to the fun
LINE Avatar also uses a range of collaborations for extra fun. In December 2020, NiziU's official LINE Avatars were released, and many NiziU fans shared their reactions on social media soon this collaboration launched. You can also change your avatar into a matching outfit while dancing with NiziU avatars and taking photos with the avatars of your favorite members.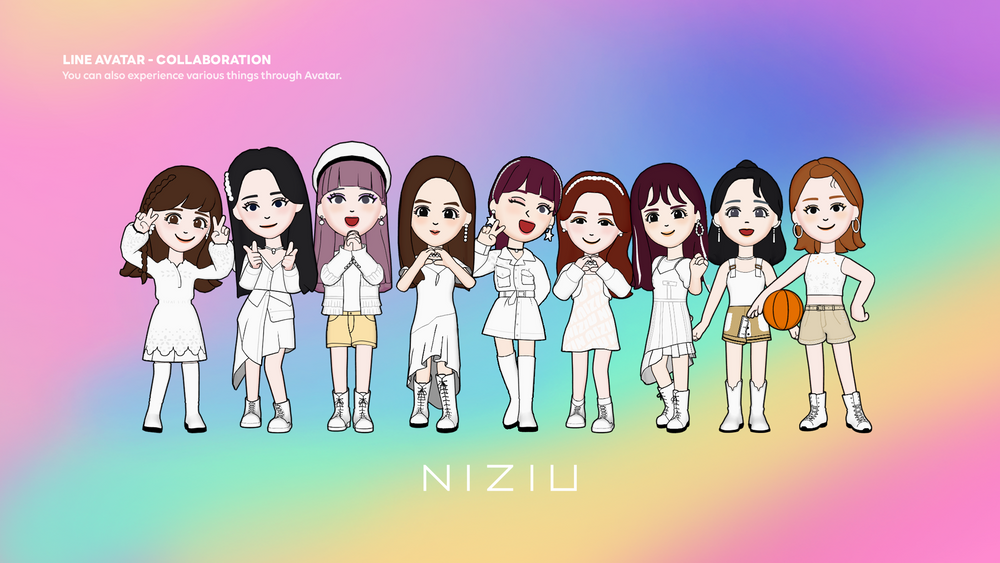 Face recognition mode on LINE Avatar
There are two ways to use face recognition mode on LINE Avatar. When the camera is turned on, the avatar's face appears as a close-up, to accurately recognize your facial expressions and mouth movements, so it can accurately mimic your feelings. When the camera is turned off, the background appears, with the avatar's whole body and detailed movements.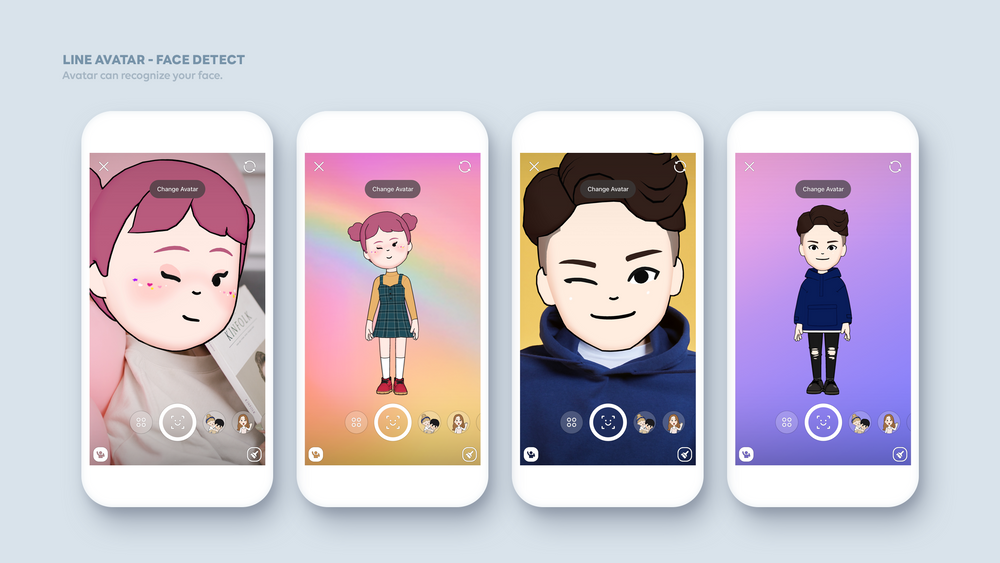 Make video calls with LINE Avatar
Face recognition mode is even more useful for video calls. Don't want to show your face on a video call? Now you don't have to. Use your avatar instead! In fact, by applying the avatar setting, your avatar can appear automatically for all video calls. What's more, the UI design for video calls has been redesigned, making it easier to select avatars for this feature. You can now use a combination of various effects and avatars to create a richer user experience.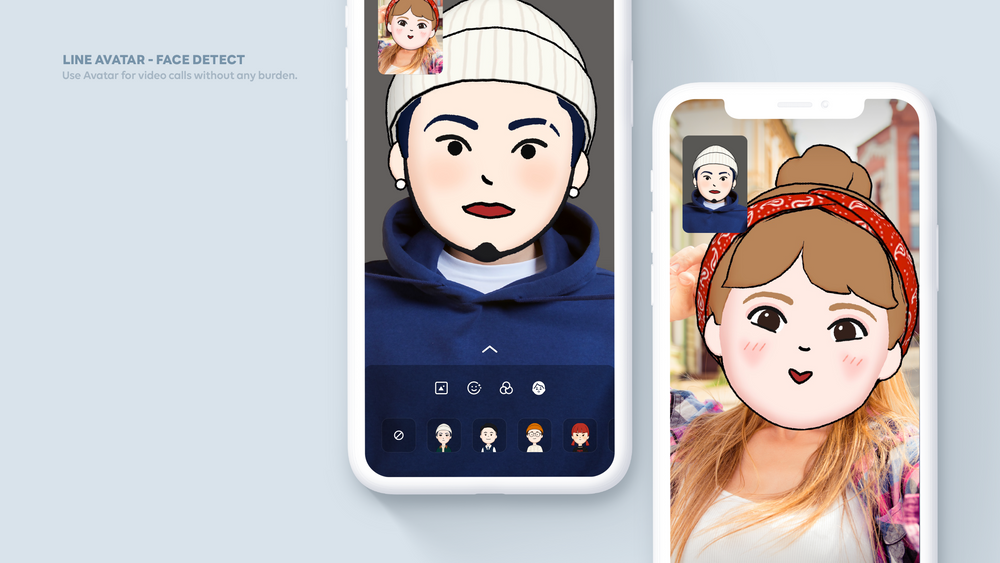 Collaborating with other LINE services
There are many ways to communicate using LINE Avatar since avatars can express users' preferences and emotions as multimedia content. You can use avatars for your profile picture, share events in stories, and share them with your friends on the talk screen.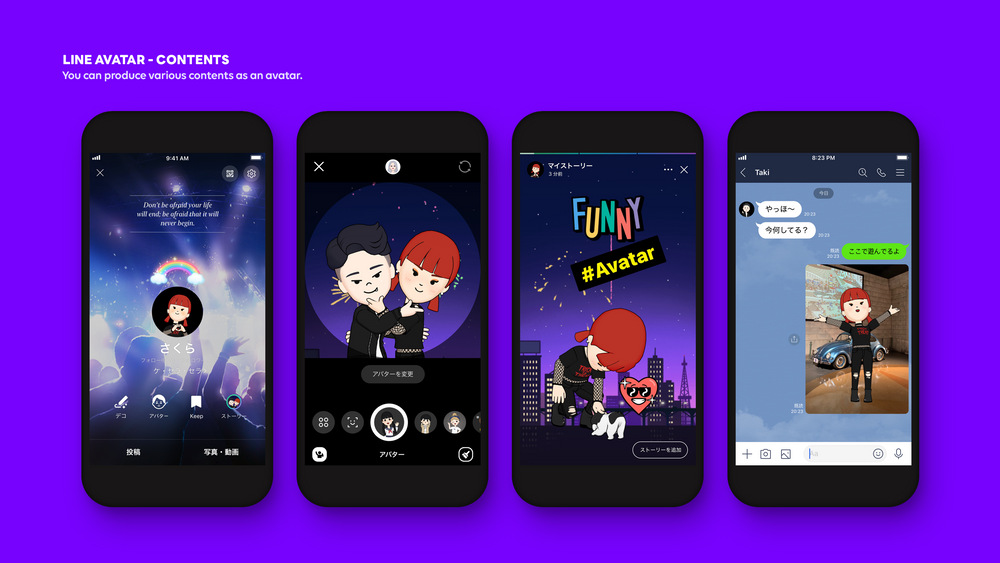 We made it possible to create avatars within other LINE services at any time in order to strengthen the link between avatars and other functions. It took some work, but now avatars can me seemlessly linked to such LINE functions such as camera profile, story and more.
The future of LINE Avatar design?
How can users create avatars more easily? How can users deploy avatars on more services? With this in mind, we are working hard to improve the Avatar service and make it even more engaging for users. There's plenty more exciting plans in the works that you can expect to see soon! So please keep checking out LINE Avatar!